"In the beginning and the end, it's about people."
In the spring of 2019, we teamed up with internationally acclaimed chef Eyal Shani to bring our restaurant, Seven North, to life in Vienna' vibrant 7th District. "In the beginning and the end, Seven North is about people. It's a space of happiness for all the people who are involved, both the team and our guests," explained Chef Eyal in a 2019 interview. That happiness goes well beyond the plate. Born from Eyal's passion for bringing people happiness and perpetual fascination with vegetables, it's only natural that Seven North has grown to realize this in long-term, lasting ways through its sustainability efforts.

Every element of the space and its many processes are carefully considered for environmentally friendly improvements. Starting beyond the kitchen, on average around 70% of the products and ingredients used in the restaurant are sourced from local Austrian farmers and producers, and some are grown as locally as can be: in the restaurant's own garden. Eighty percent of the menu is vegetable-driven, resulting in less carbon emissions. Even the restaurant's suppliers refrain from using single-use package and crates.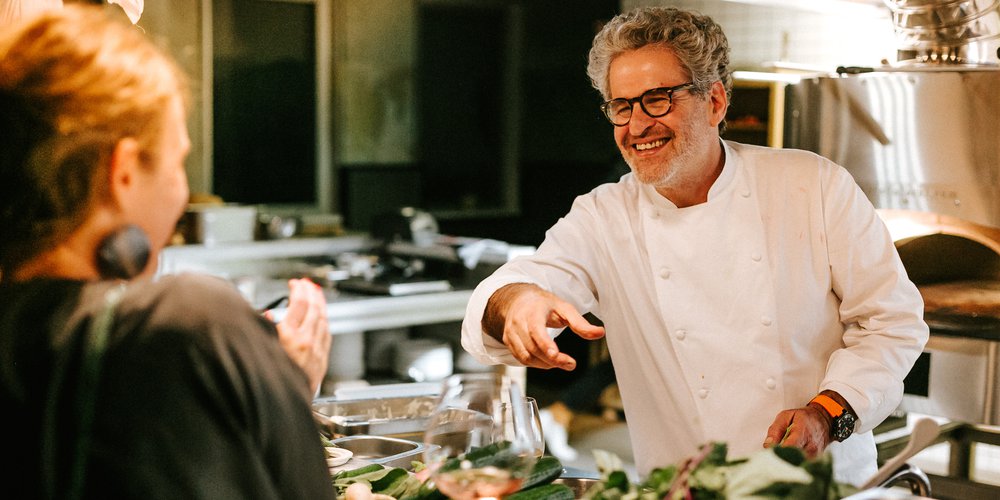 In the restaurant, the team looks to cut and conserve waste wherever they can. As opposed to plastic straws, they only use ones made from cactus or potato starch. Any leftover vegetables get fermented and brined, then incorporated into the menu later. The open kitchen even provides heat for the space itself to offset the central heating system. Looking to the future, the team is exploring using leftover coffee grounds to make mushroom products, plus using a Winnow Food Scale to decrease food waste even more.

Not only does Seven North's focus on sustainability align with Chef Eyal's ethos, but it also aligns with the vision of Sircle Collection. With each hotel, restaurant or special hospitality project, we strive to only positively contribute to our surrounding environments and neighborhoods. Our key areas of focus are energy, waste, water and procurement. Seven North is a key piece to this larger puzzle, even leading the way for our other properties as we all learn and grow together.