We're back from our summer break and ready to reconnect with some of our favorite artists for our "Work of Art" series. This time we joined up with Maaike Canne, whose colorful illustrations can be found inside our Max Brown Museum Square space in Amsterdam.


Maaike invited us into her Rotterdam studio to share more about her creative background, her upcoming residency in Japan, and new projects, including her recently completed 13-meter-high mural, and exciting collaborations with De Volkskrant, Tylko furniture brand, ABN AMRO, and some illustrations for Elle Decoration.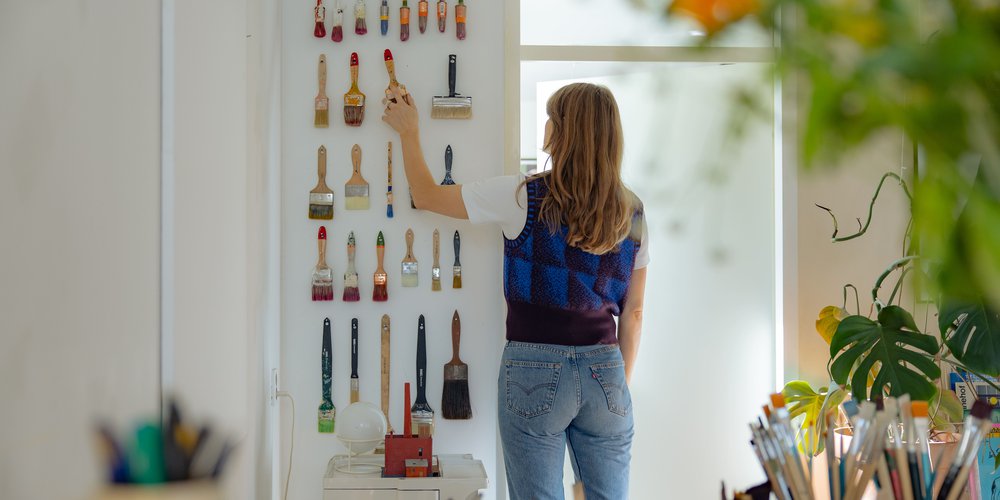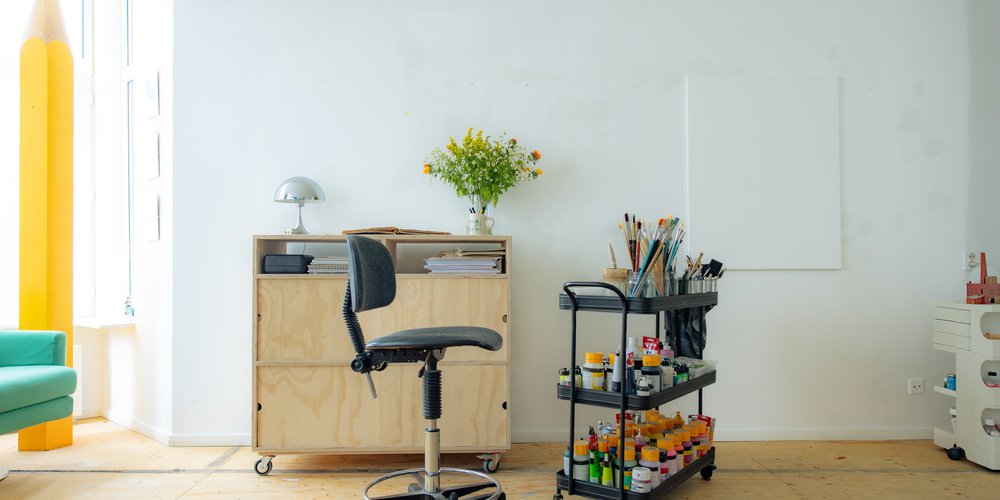 TAKE US ON YOUR CREATIVE LIFE JOURNEY, FROM WHERE IT ALL STARTED – TO WHERE YOU ARE NOW.
I've been drawing since I was a child, carrying my red briefcase filled with pencils and paper wherever I went. My grandmother, a painter, inspired me with her studio visits and drawing sessions in her garden. With my father being a Graphic Designer, my artistic dreams were always supported. In my early teens, music became a big part of my life. In class, I was always writing down lyrics from songs in my sketchbook and creating accompanying illustrations. I then pursued studies in Mediavormgeving at Grafisch Lyceum Rotterdam and after that, I studied Illustration at St. Joost Art Academie in Breda. In 2017, I launched my business and became a full-time freelance illustrator in 2019.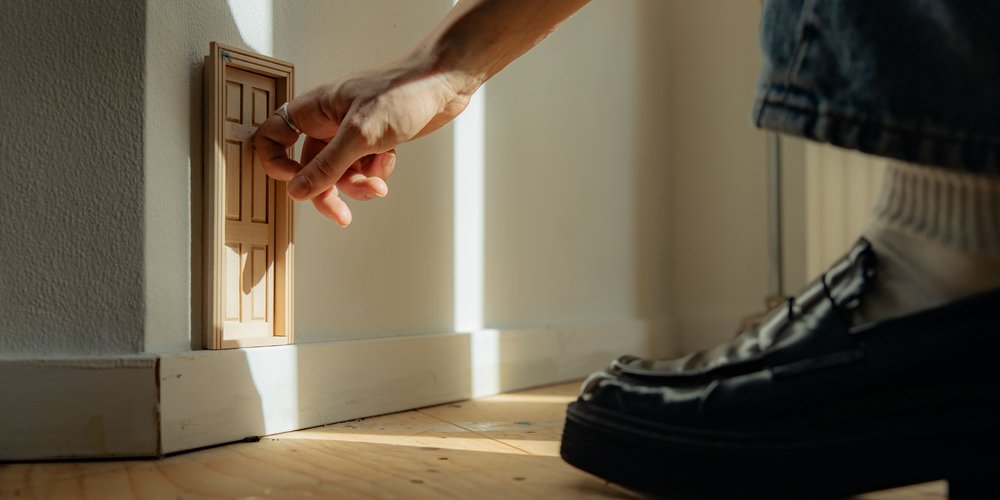 YOU'VE CREATED BEAUTIFUL COLORFUL ILLUSTRATIONS SHOWCASED WITHIN OUR MAX BROWN HOTELS. CAN YOU SHARE MORE ABOUT YOUR STYLE AND HOW IT CAME TO BE?
My style of course evolved a lot over the years. Back in art school, I made a lot of black linework with humorous themes. I also drew people back then (people slowly disappeared halfway through my study but are now slowly reappearing again). In the last part of school, I got into Japanese architecture and woodblock prints, so you can see lots of influence of horizontal and vertical lines and flat perspectives in my work. I like to blur the line between representation and abstraction and explore the interplay between interior and exterior spaces. I like to invite viewers to imagine "what happens next" and encourage them to create their own narrative within the frame.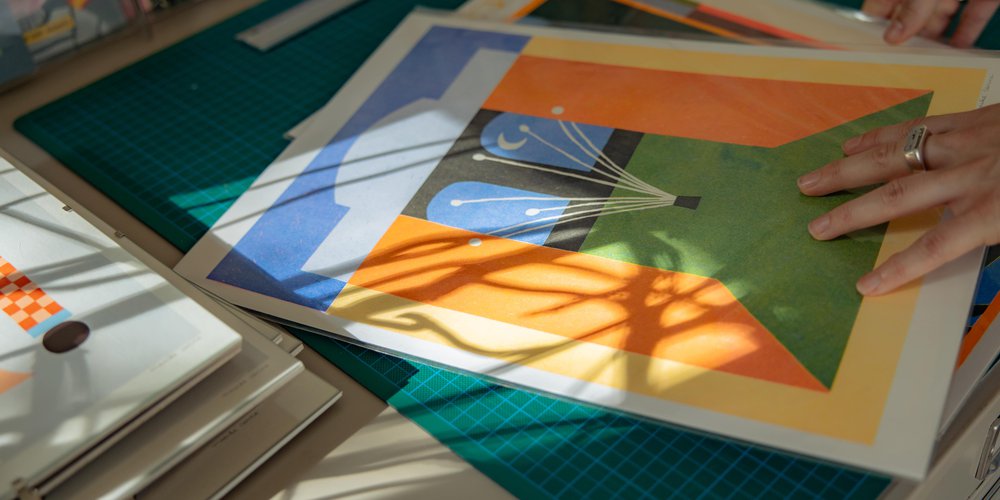 WHERE IN THE WORLD DO YOU FIND INSPIRATION AND WHERE DO YOU LIKE TO CALL HOME AND WHY?
I draw inspiration from Japan, particularly woodblock art and architecture, which prioritize the artist's perspective over excessive detail. Design, interiors, and architecture are significant sources of inspiration. Nature, including American deserts, Italian landscapes, and Scandinavian lakes, also fuels my creativity. History, old objects, and stories are additional wellsprings of inspiration.


I'm quite content in Rotterdam West and I appreciate the proximity to museums, concerts, good food, and cozy cafes. I'm also a homebody, surrounded by cherished items like collected artworks, books, thrifted glassware, and fine furniture.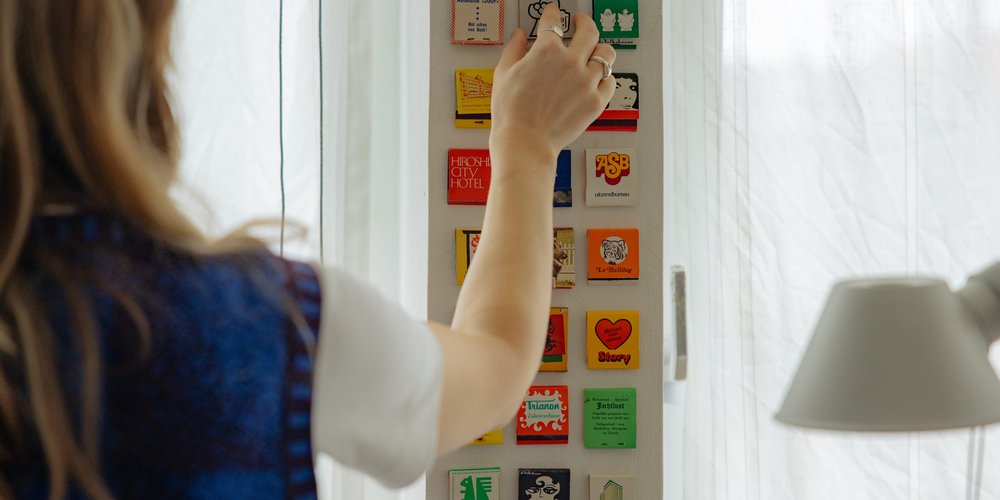 YOU'RE BASED IN ROTTERDAM. WHAT DOES A DAY IN YOUR LIFE LOOK LIKE AS A FULL-TIME ARTIST LIVING IN THE CITY? WHERE ARE SOME PLACES YOU LIKE TO VISIT TO SPARK INSPIRATION OR ROUTINE?
I'm fortunate to have a spacious studio just a 10-minute bike ride from home, which I share with my musician boyfriend. It's an apartment studio with all the comforts of a regular home. Rotterdam is a vibrant city with diverse and interesting neighborhoods scattered throughout. Some of my favorite areas include Heemraadsingel to Nieuwe Binneweg, where I enjoy cafes and live music. I also love places like Boijmans Depot 'Museumpark,' Historisch Delfshaven, Veerhaven, Willemsbridge, Erasmusbridge, Boompjeskade in the evening, Kop van Zuid, Kralingse Plas, Kralingse Bos, Euromast Park. While these places may not directly inspire my work, they bring me joy.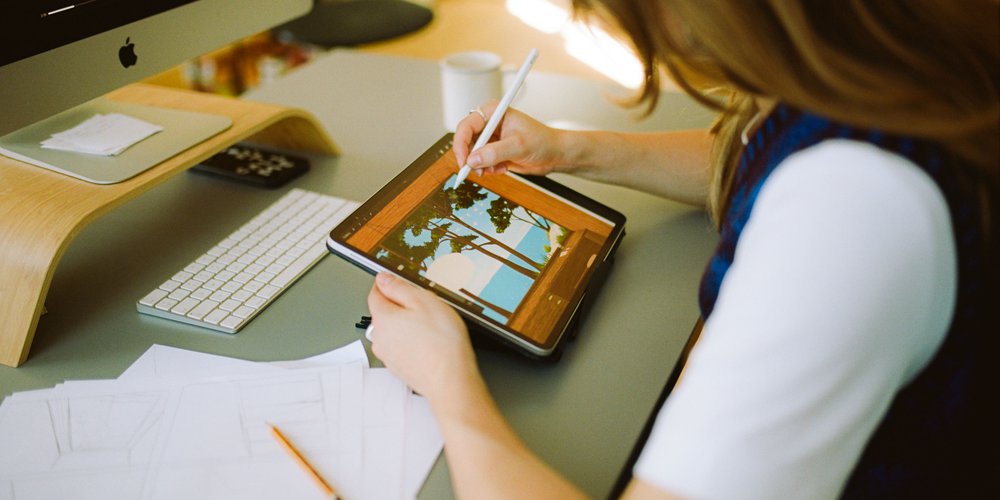 WHAT DOES THE FUTURE LOOK LIKE FOR YOU AND YOUR ART, DO YOU HAVE ANYTHING INTERESTING COMING UP THAT YOU'D LIKE TO SHARE?
I just finished a 13-meter-high mural, which I absolutely loved creating. I have exciting collaborations ahead, including one with the furniture brand Tylko and another with Elle Decoration. Plus, I'm thrilled to announce that I'll be designing for next year's Camera Japan Festival in Rotterdam and Amsterdam. Speaking of Japan, I'm heading there for a 1.5-month trip, including a one-month residency at Studio Kura near Fukuoka. I can't wait! I'm really enjoying the mix of digital illustration projects and analog work, such as autonomous paintings and large-scale murals. While I've dabbled in interior and fashion product illustrations and textile prints, I'm also eager to explore more of that in the future.