In honor of Sircle Collection's 10th anniversary, let's look back on some of our best art, design and experiences from 2011 to 2021.
Sir Adam & MTV European Music Awards - 2017
Right as Sir Adam was opening in 2017, it coincided perfectly with the MTV European Music Awards! We had to host the party, it was only fitting. Europe's biggest music stars came to party in the brand new hotel, and it was a night we'll never forget.
Snarkitecture & Ceaserstone at Our Milan Palazzo for Salone - 2018
For Salone 2018, quartz manufacturer Caesarstone tasked NYC design firm Snarkitecture with reimagining the kitchen island in our Milan Palazzo and they did not disappoint. The piece, titled Altered States, was inspired by the states of water and natural topography. Snarkitecture boldly layered quartz around a conceptual kitchen island and exhibit-goers interacted with ice, liquid, and steam in inventive ways.
The Max Brown Bed Tours & Sleepover Tour
At Max Brown, we do the basics and their absolute best, and our beds are no exception. There's a reason why they're responsible for more than a few late checkouts—the Max Brown bed is impossible to leave and possibly the world's comfiest bed. We're so proud of our bed, in fact, that we take one on a tour around Europe every year so we can show it off. We've taken it to an outdoor film screening, a music festival, a museum and more across Max Brown's cities.

Then to celebrate the opening of Vienna's Max Brown 7th District, we had the first-ever Max Brown Sleepover Tour. We hosted our local friends for once-in-a-lifetime sleepovers at extraordinary Vienna spots—with our famous bed, of course. On our three tour stops, the Clears slept under the dinosaurs at the Natural History Museum, the ladies of Les Factory Femmes slept in Volkstheater's historical Red Bar and the band Cari Cari slept on the stage of intimate Ateliertheater.
Anna Dello Russo x Milan Fashion Week - 2018
Before we began the renovation on our Milan palazzo, we welcomed the legendary Anna Dello Russo to host an exclusive auction, dinner and party during Milan Fashion Week. The three-act event conceived by Anna Dello Russo took the audience by storm. Models such as Hailey Baldwin, Jasmine Sanders and Izabel Goulart showed thirty looks from her extensive archive of legendary outfits including items by Dolce & Gabanna, Versace, Fendi and Chanel, dating from 1985 to now. The entertaining auction was presented by Christiano de Lorenzo of Christie's and all proceeds went to the Swarovski Foundation to support young fashion talent. It was all followed by a late-night fête where close friends of Anna, like Giovanna Battaglia, Maurizio Cattelan, Natasha Poly, Peter Dundas, Linda Fargo, Linda Tol and Marjan Jonkman danced the night away.  
Our Viennese Art Collection of Max Brown 7th District
Art is in our DNA, and Idit Orni is an integral part of it. We collaborate with Orni to source the meaningful art you'll find throughout our hospitality projects, like the work of legendary Vienna artist Renate Bertlmann. Vienna's Max Brown 7th District is filled with inspiring local works, and guests gain an understanding of the local art scene and greater culture throughout the property.
The North Stars Concert at Sir Adam - 2019
We kicked off our Sir Cares program at Amsterdam's Sir Adam with an unforgettable night. Sir Adam is partners with A'DAM Music School, an organization that funds music education for children and gives them invaluable opportunities to grow. To celebrate our new initiative, we held the very first North Stars Concert at Sir Adam. The talented students of A'DAM Music School then took the stage with Dutch legend Da Mouth of Madness, Ruth Jacott, Kenny B, Do and Jordan Roy and sang epic renditions of classics, like George Michael's "Freedom". We were so honored to bring together Amsterdam's creative community for such a special night.
The Park Centraal Amsterdam Opening Party - 2019
We celebrated the grand opening of Park Centraal Amsterdam and Bar Claes with over 900 of Amsterdam's finest. Walking in, guests were welcomed by hostesses dressed by legendary Dutch fashion designer Claes Iversen. After getting an inventive drink at one of the many bars, partygoers floated between three elaborate experience rooms. In one room, Dutch artist Merijn Kavelaars created splash paint masterpieces with guests. In another, guests jumped into a pit of Delft Blue foam pieces. In a third, Jajem provided a kopstootbar (the classic Dutch shot of jenever and beer combo) to pair with the Dutch karaoke. DJs Mike Righters and ROOG, singer Shirma Rouse, a saxophone player and vogue dancers kept guests dancing into the night with soul and house music. Special guests included Shary-An Nivillac, Mascha Feoktistova, Kaj van der Voort, Moïse Trustfull and David Laport.
Our Spanish Art Collection of Sir Victor
Set in Barcelona's vibrant modernist district, Sir Victor is only a few steps away from some of Gaudi's most famous architectural works. The hotel is even named after the revolutionary Catalan writer Victor Català. We wanted the interior of the building to reflect the city's artistic spirit, so we worked with 25 local artists, from emerging to established, to decorate the hotel from top to bottom. Whether you're in the lobby, a guest room or an event space, you're never more than few feet away from an incredible piece of art. Artists include Jaume Plensa, Chema Madoz and Perejaume, to name a few.
Halloween Parties at Sir Joan
In years past, we've thrown some epic Halloween parties at Ibiza's Sir Joan with some of Spain's biggest names. They were always nights not to be missed.
Prints Without Borders - 2020
Across all of our international offices, hotels, restaurants and special projects, we are a team of individuals with a shared passion for taking care of our guests from all over the world. Watching the COVID-19 crisis unfold, we wanted to find a way to give back to as many impacted people as possible not just across our cities, but across as many borders as possible. With this in mind, we created Prints Without Borders, a charitable initiative to benefit Doctors Without Borders. We teamed up with the talented artists whose work you can find in Sir Hotels, Max Brown Hotels, Park Centraal Hotels and X BANK to create 20 exclusive prints, with proceeds going to Doctors Without Borders. All prints were €50, and we raised €8500 for Doctors Without Borders.
20 Rooms, 20 Designers - 2020
From 10­­–13 December 2020, our Dutch design concept store in Amsterdam, X BANK, teamed up with our hotel in Amsterdam's De Pijp district, Sir Albert, for a one-of-a-kind holiday market. Twenty designers and artists on display in the store each got a hotel room on Sir Albert's first floor to transform into their own personal pop-up. Over the four days, nearly 500 visitors flowed between the pop-ups to do all of their holiday shopping, from luxury vegan handbags to silk face masks made from vintage designer ties. Designers included: Iris Maree, By B+K, Antidote, Loes Vrij, Rocks on a Rope, Marlous vd Toorn, Stoned Marble, Marie Stella Maris, Rebbit, Silhouet Lighting, Ignore, Bananatime, Shake it baby, Maja Krstic, Apron studio, Nissue bags, Youngblood, Designmix. Fleur Ouwerkerk, Vanderwilt, The New Parlour/Inner Care and WIJCK.
Monumental Murals - Sir Savigny, Sir Nikolai, Sir Albert & Max Brown 7th District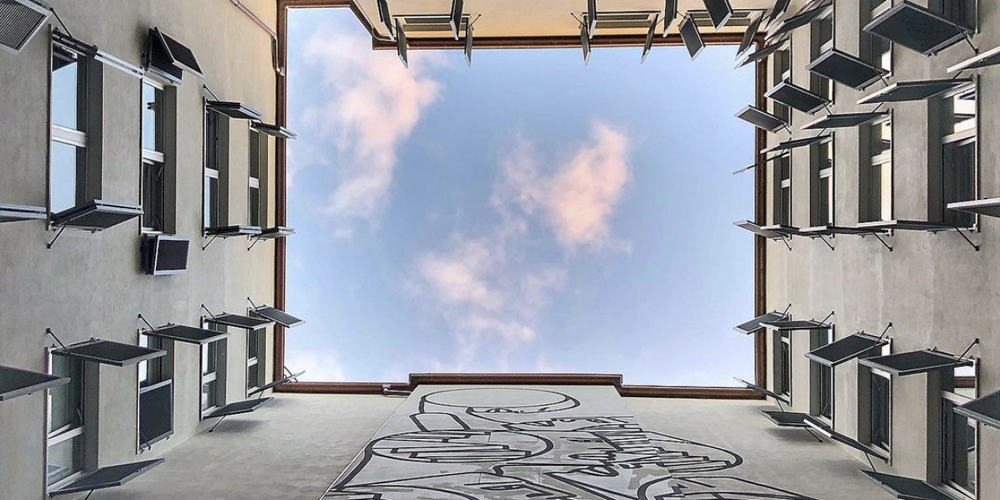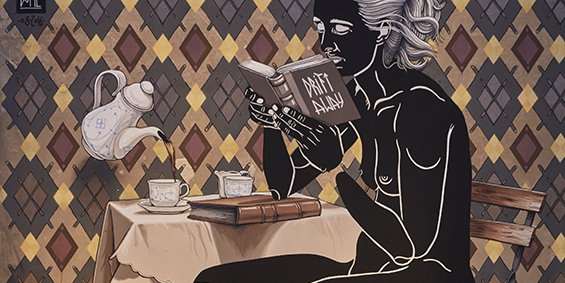 Art is everywhere you look at our properties, especially up. We worked with talented local artists to create special murals at several hotels in our collection. Each mural speaks to the identity of the property. Don't miss Steve Tapas at Hamburg's Sir Nikolai, Adele Renault at Amsterdam's Sir Albert, Käthe Schönle & Sebastian Schager at Max Brown 7th District and DOME at Sir Savigny. Amsterdam's Maja Krstic created an amazing line drawing mural on X BANK's former stairs.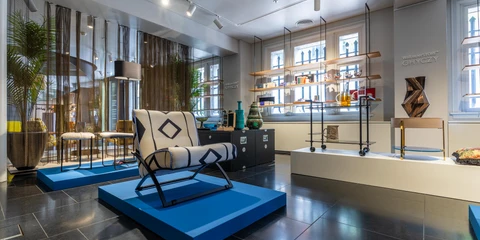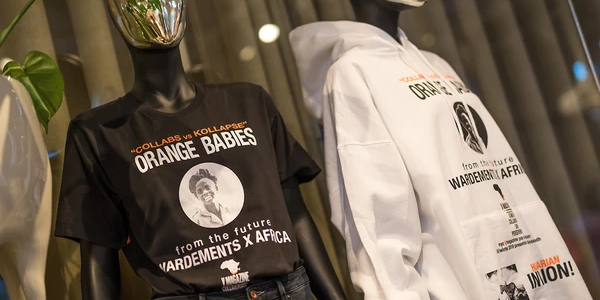 We've exhibited so many incredible art installations and designs and hosted so many events at our luxury Amsterdam store, it's impossible to name just one. A few that come to mind are:
The mind-bending Martin Garrix pop-up store at X BANK to launch his book LIFE=CRAZY in 2018.
In 2018, Patta and Umbro presented their second range of historical football jerseys as a tribute to Patta's hometown. X BANK joined forces with them to create a unique auction in support of the Favela Street Foundation.
In 2018, X BANK hosted a launch party for Orange Babies x Wardements' limited-edition collection.
Life-size stuffed animals by DEKENDIEREN on display.
In 2019, WallpaperSTORE* x GHYCZY popped up in the Netherlands for the first time, and we were lucky enough to host it at X BANK.
The Sir Art Studio - 2020–Present
At Sir Albert, our hotel located in Amsterdam's vibrant De Pijp district, we've converted our street-level event space a few doors down from the hotel into The Sir Art Studio. Come visit, experience and buy incredible art made by talented local artists. We created this new initiative with Amsterdam-based trend forecaster and overall visionary Bionda Sno. With her insider expertise, we assembled an exhibition of artists creatively illuminating this time. Shop the art and read more about the exhibition here.
The Sir Victor Opening Party - 2019
We celebrated the official opening of Barcelona's Sir Victor with a huge celebration. Over 1,500 of Barcelona's top athletes, artists, musicians and designers came to the hotel for a memorable Barcelona night. The event also marked the official opening of THE ENTOURAGE GROUP'S second outpost of their acclaimed steakhouse, MR PORTER, set in the hotel. Rapper Tinie Tempah surprised us with a performance. In addition, we designed five mysterious spaces for guests to explore, including a Fortune Teller Room and a Tattoo Studio.